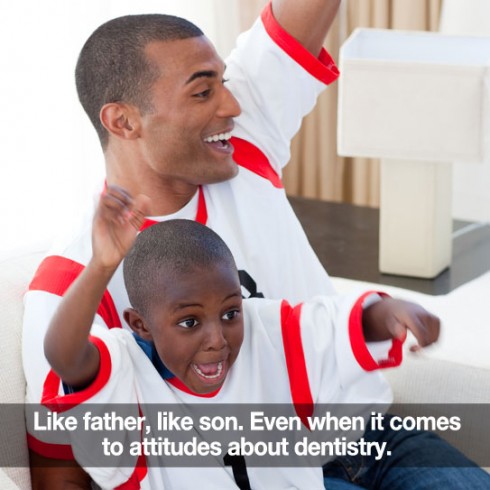 AS YOUR CHILD NAVIGATES the world, he or she looks to you to know what to do in certain situations—and how to feel about it. Think about how that relates to dentistry. Great dental care starts in the home, and YOU are the most important advocate and example for dental health in your child's life.
Your Child Doesn't Ever Need To Have Bad Dental Experiences
Many adults are anxious about dental visits due to bad experiences as children. But modern dentistry has changed by leaps and bounds… And in our practice, we specialize in being gentle, caring, and fun.
Here Are Some Dads Who "Get It":
Follow These Four Tips!
These four tips will help you give your child a great lifelong oral health foundation:
#1: Be Proactive: Take Advantage Of Preventative Dentistry
Ideally, preventative appointments are all your child will need. Get them in to our office early, so that they relate the dentist to fun, instead of cavities.
#2: Don't Make Too Big Of A Deal Out Of It
Without fear in the way, a dental visit is really not a big deal. Just let your child know a day early to expect a dental visit, where the dentist will count their teeth.
#3: Keep Your Language Positive
Sharing your own difficult-dentistry story, or saying "don't be scared, it won't hurt" can actually signal to a kid to brace for a terrible experience.
#4: Lead By Example
When your child glances over and sees you sitting comfortably, he'll know that he's okay too.
Thanks For Trusting Us With Your Child's Care
We know that it isn't always easy, but we're dedicated to making sure your child has positive experiences at our office, which will empower them to have a lifetime of healthy teeth.
Thanks for reading, and feel free to leave your comments or questions below!