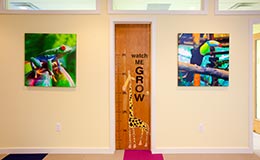 At The Smile Spot, Dr. Stephen and our team love providing expert, caring pediatric dental treatment to all children, including children with special needs. We understand that patients with autism, developmental delays, cerebral palsy, Down syndrome, and other medical conditions can experience a high level of anxiety when going into a new environment, so we go above and beyond to help them — and you — feel at ease with us.
Kindness and patience are essential to helping children and their parents have positive experiences at the dentist. After visiting with our team, many children find themselves excited to come back, and Dr. Stephen takes great pride in having such a positive and profound effect on children and their families. Our goal is for your child's visit to be not only easy, but fun, too!
Stress-Free Visits
We know that going to medical appointments of any kind with a special needs child can be challenging and stressful, for both the child and the guardian. We take the stress out of dentist appointments by ensuring that your child gets the one-on-one attention of our team throughout the visit. Your child will get to know our team and the environment, which will allow him or her to feel comfortable and have an enjoyable visit. We know how hard you work as parents to provide the best care for your children and we want to be considered a part of your servicing team. We want to be your child's dental home, a home that adapts over time with your child's evolving needs.
Scheduling

We take into consideration your child's response to noise and activity level and work on scheduling at a time when he or she is most "on point" to create a successful visit.

Tailored Visits

We take into account each individual child's needs, from what triggers them, to what eases them, to things to talk about or avoid, likes and dislikes. We want to know what makes your child tick! We encourage parental involvement and adapt with each child's unique qualities to work towards the ultimate goal of making your child completely comfortable in their dental home.
"As a parent to a child with autism spectrum disorder, it was extremely important that we find a dentist that was going to take the time to listen to my concerns as a parent, take the time to get to know Myles, meet him where he was and then practice stretching his abilities. Essentially, I was looking for another service team member, not just a dentist, someone who was in it for the long haul and would be able to modify and adapt as his needs changed. And I found just that in Dr. Stephen and his entire office staff. When we first started with Dr. Stephen it was a literal impossibility to get a toothbrush in Myles' mouth. Dr. Stephen and his team took the time at each and every visit to patiently work with Myles, and now at four and a half years old, he brushes his teeth twice a day on his own and LOVES to floss! They made our office visits stress free and enjoyable, not only for Myles but for me as a parent as well. They have celebrated Myles' success along the way and always make a point of celebrating his awesomeness! I highly recommend adding them to your team!"
Play & Quiet Areas
Most children feel comfortable in an environment that is fun and feels familiar, so we've designed a play area in our office that is equipped with TVs, video games, toys, and books to keep children entertained in the office. However, children with sensory processing issues may feel more comfortable in a controlled environment, which is why we also have a "quiet room" in the practice.
We also build playtime into your child's visit. We encourage families to come by our office for a tour, to meet-and-greet with the team and for kids to take time to read books from our library or play a game or two.
Sensory Needs
We recognize that children with special needs can potentially present with unique and different oral hygiene and health concerns. Children with sensory challenges may not like the texture or sensation of toothpaste, meaning proper oral health care becomes difficult. We offer mild-flavored toothpaste for children who are taste or color sensitive. These sensory issues may also lead to diets that are not as balanced as they should be, affecting oral health overall. At The Smile Spot, Dr. Stephen and our team listen to your concerns, provide you with helpful resources and become your partner in care for your child's oral and overall health.
"The staff at Smile Spot doesn't just talk about treating your family well, they really do it. I had previously taken my daughter to another "kid friendly" office, and while they made an effort to make the visit fun, they were ill equipped to deal with the level of anxiety my daughter was feeling. At The Smile Spot, the difference started with a phone call from Tali and then Dr. Stephen to learn more about my fears and concerns for my daughter. They assured me 'We're different, we can do this'. I was very skeptical, but willing to keep an open mind and a hopeful heart. They scheduled a slightly longer first visit for us because they know that some kids just need time. It honestly took their caring staff over an hour to gain my anxious daughter's trust, then they lovingly and gently guided her into the chair. I gladly took their recommendation to stay in the hallway and watch from around the corner, so they could work their magic. They were so right. I literally cried tears of joy when she finally sat in the chair and let Dr. Stephen count her teeth, while he belted out 'Under the Sea' from The Little Mermaid, because that's her favorite movie. I snickered when they promised that my girl would be begging to come back, but now she LOVES getting her teeth cleaned, and she even loves brushing and flossing at home. I'm a skeptic turned true believer. They are truly special, and we are grateful."
Dental Anesthesia
At The Smile Spot, we offer anesthesia services in our office, performed by a board certified dental anesthesiologist. Read more about our anesthesiologist's credentials.
Special Needs Community Events
To show his commitment to our Special Needs community, Dr. Stephen, along with The Smile Spot team, hosts a movie day each winter. Ticket proceeds are donated to several charities related to children with special needs. Among these charities are The Little Britches Therapeutic Riding Program, a horseback-riding program for children with special needs in Southbury, Woodbury, and Litchfield. We also support "Yes! Grace Rocks," a charitable organization based in Southbury providing support to families with a child suffering from a brain tumor or injury.
Stay up-to-date with all of our fun events at The Smile Spot by visiting our Facebook page.
We realize that the special needs community includes a very diverse group of children, and that every patient who comes through our doors has different challenges. We want you to consider us your go-to resource, and we look forward to meeting you and your family. Contact us today to learn more about our services.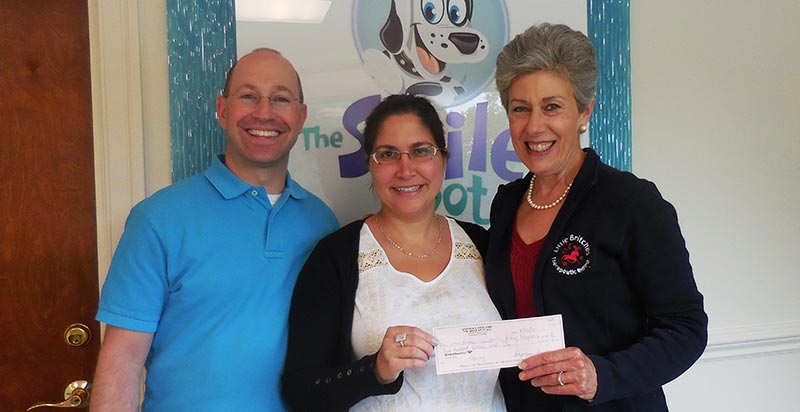 Dr. Stephen Kest and Tali Kest present a donation to Susan Sieber of Little Britches, one of The Smile Spot's favorite charities.