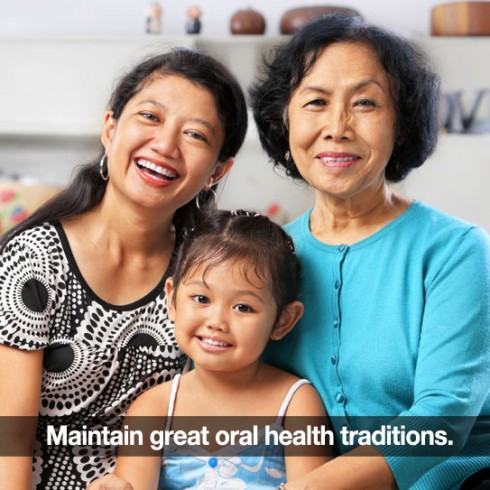 WE MAY BE YOUR FAMILY'S pediatric dental team, but we know that the health of your whole family is important to you—AND to us! Whether we're talking about your children, you, your grown children, or your aging parents… We want to be your "go-to" resource for great oral health information.
YOU Are Likely The Key Person In Your Entire Family's Oral Health
Oral health is an important part of total body health, so as we talk about special concerns of 40-60-year-olds today, make sure that you share this information with those important people in your life who will benefit from the advice. Great oral health is important for everyone!

Must-Do's, Ages 40–60:
It's estimated that up to 3/4 of adults over age 35 have some degree of gum disease. This can usually be prevented with flossing and brushing, but if it's already progressed you may need extra care from our team. Talk to us if you're experiencing bleeding gums.
Some research shows that bad oral health may be linked to systemic problems like heart disease, dementia, diabetes, and stroke. Keep your whole body healthy by keeping your mouth healthy.
Should-Do's, Ages 40–60:
Restorative treatments (such as crowns and dental fillings) are more convenient, comfortable and affordable than ever before. Do you have old, badly worn dental work? It may be time to replace those old fillings or crowns before they crack and cause discomfort.
Could-Do's, Ages 40–60:
Studies show that people look younger when they smile. And the AACD (American Academy of Cosmetic Dentistry) recently reported that most Americans 50 and over believe that a smile overcomes the effects of aging more effectively than any other physical attribute.
Nothing makes you feel younger than a healthy, vibrant smile. Talk to us about cosmetic dentistry options.
Take Care Of Your Smile And It Will Take Care Of You!
You're in the prime of life. Stay the course, stick to your great oral health habits, and don't neglect your regular check-ups. Through preventative care you really can keep your healthy smile for life. Take good care of your smile now to prevent problems down the road. If you have any questions about tips mentioned in this post, don't hesitate to ask us about it. Comment below, or give us a call.
As always, thanks for your continued trust in our practice!