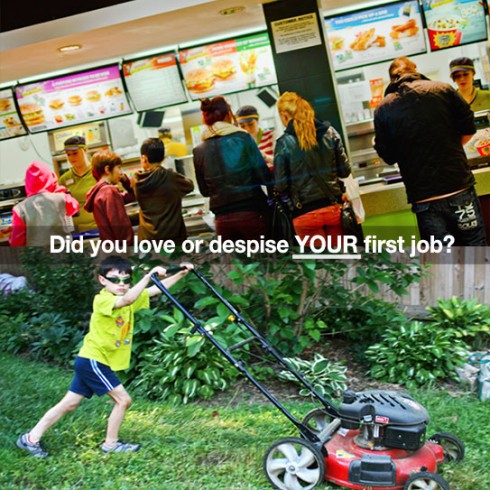 WE ALL HAVE TO START SOMEWHERE! We're interested in hearing about YOUR first job! We Asked Team Members The Same Questions We're Asking YOU:
What was your first job?
Tell us about your experience! Did you love it or hate it?
Here Are Some Of Our Team Member's Answers:
Dr. Stephen:
My first job was as a day camp counselor at Judd Farm Day Camp in Watertown CT. I loved everything about it! Being out in the sun, playing sports, riding horses, hayrides and working with some great kids.
Jocelyn:
My first job was at Dr. Mike's Ice Cream shop. I was 15 and scooped ice cream, served customers and worked the cash register. It was super fun!
Lynn:
My first job at 16 was at Devino's Carvel on Watertown Ave in Waterbury. I liked the fact that I had free ice cream any time I wanted. I liked the tam and customers. It was fun making the ice cream cakes. The only thing I didn't like was the older woman, Bessie, that worked days and taught you how to make the products. She would yell at you if you did something wrong. Very scary!
Kayleigh:
My first job was in pharmacy/retail and the job itself was only alright. Working with customers was a wonderful experience, but at 17 years old, getting yelled at by customers for things out of my control was terrifying! It helped me to mature very quickly!
Lily:
My first "real" job was as a cashier at Stop & Shop. It was fast paced & fun. I definitely enjoyed it and think everyone should have that experience. I've been babysitting from age 12 until a month before Raylee was born.
Tali:
My first job (after babysitting) was at Express clothing store in the Century City mall in L.A. My friend and I got the jobs together and had a ball! We loved the clothes and laughed all the time. I felt so grown up when using the register. The only time I didn't enjoy it was when a woman yelled at me for mistakenly putting her clothes on the rack!
Michelle Obama's First Job
At the 1:08 mark, Michelle talks about her first job at a book bindery.
Now, It's YOUR Turn!
What was YOUR first job? Share your answers to the two questions above in the comment section below. Or, you can direct message us on our Facebook page.
Thanks for being a part of our practice's story!