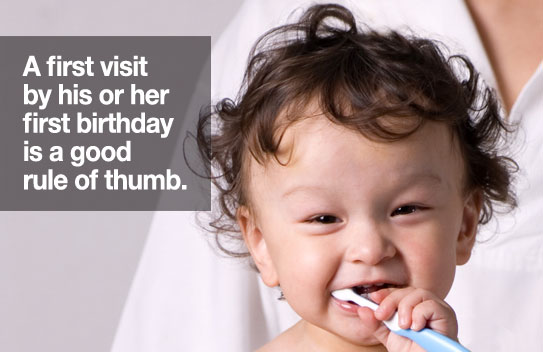 SOME PEOPLE BELIEVE BABY TEETH ARE NOT IMPORTANT because they're temporary. Not only is that incorrect, it can be dangerous. The health of baby teeth can affect permanent teeth, not to mention speech and jaw development. To better ensure good oral health, you and your child should come in and visit with us.
When Should A Child First Visit The Dentist?
The American Academy of Pediatric Dentistry says "first visit by first birthday." Some experts recommend visiting the dentist within 6 months of the arrival of your child's first tooth. If you have questions or concerns before either of these times, don't hesitate to call.
What To Expect At The First Visit
Dr. Stephen will meet with you and give you plenty of time to ask questions about your child's teeth & oral health.
Your child will have a professional cleaning and fluoride application.
We'll examine your child's teeth, gums, jaw, and bite.
Our team will visit with you about your child's teething and development, gums and cheeks, cavity risk, finger and thumb sucking, diet and its effect on oral health, facial and tooth damage prevention, at-home and follow-up care, etc.
Ways To Make Your Child Feel Safe And Comfortable
Sometimes, a first time dental visit can be challenging for a little one. You can help us ensure your child's visit is comfortable by following some tips:
Stop by our office to take a tour, have your child play or borrow a book from our fun library of children's books about the dentist. This will help your youngest become familiar with our environment.
Being familiar with our awesome playroom will help your child feel comfortable and realize just how fun it is to have a visit with Dr. Stephen!
Dr. Stephen & our team will start building trust with your child, make him or her feel safe & ensure a fun experience.
Bring other children along for the first visit (friends & siblings are welcome!) Bring a snack, favorite toy, blanket or another familiar object. This may help your child feel more comfortable and safe.
Our website also has great information on your child's first visit.
We're Here To Help
We're here to help you help your child. If you have any questions please send them our way. You can call us or reach out to us on Facebook. We're excited to join forces to make sure your child has excellent oral health.
We appreciate your trust in our practice!