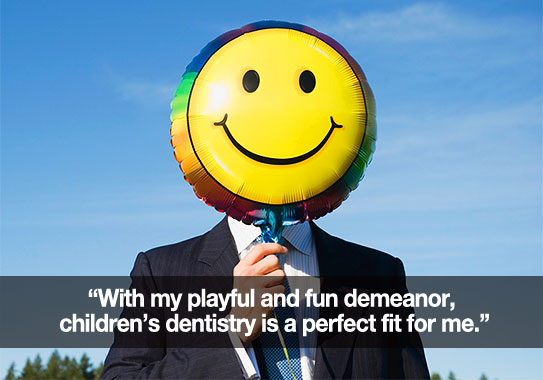 What made you decide to become a children's dentist?
"I was a perpetual camp counselor growing up and always had a great way with children. My father is a general dentist in Southbury and has been practicing in town since I was a small kid. I have very fond memories of coming to his office and seeing him at work. Dr. Fischbein was my pediatrician growing up and I used to call him "Dr. Bonefish" and always loved going to see him. He was a role model for me as well and I thought growing up that I would be a pediatrician. As a young adult, I worked at a dental consulting firm, conducting seminars on practice management. After this experience, I came back to Southbury and saw again the great relationships my father built with his patients and wanted to do the same. With my playful and fun demeanor, children's dentistry is a perfect fit for me."
Where did you attend school and how long have you been practicing?
"I attended The University of Pittsburgh School of Dental Medicine and graduated in 2005. I then completed a 2 year hospital residency in pediatric dentistry in Brooklyn. I have been in private practice for 5 years in such places as Rye, NY and Stamford, CT before opening The Smile Spot Children's Dentistry in April 2012."
What advice would you give to a young person considering a career in dentistry?
"Dentistry, especially pediatric dentistry, gives you the opportunity to have a tremendously positive effect on people. As a pediatric dentist, I'm able to educate young children on the importance of good dental hygiene, cavity prevention and most of all, how to have an awesome and fun experience at the dentist. I love going to work every day and making people smile."
What is the one thing you find most satisfying about being a dentist?
"Watching the kids have a great time in my office and seeing the parents be totally surprised by it! We take something that should be difficult and make it easy. Seeing the children with big smiles on their faces and not wanting to leave the office at the end of their visit is the most rewarding part of being a children's dentist."
We hope you've enjoyed getting to know Dr. Kest better! And, as always, THANKS for being our valued patients and friends!
Do you have a question for Dr. Kest?
Please include it as a comment below! He will answer it right away. Thanks!