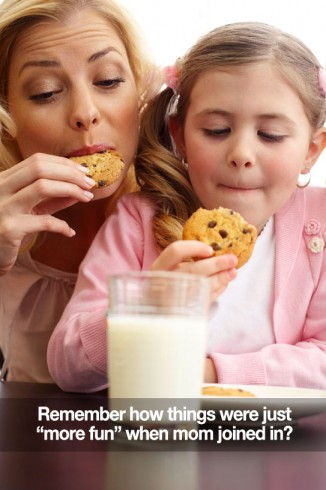 THIS SUNDAY MUCH OF THE WORLD CELEBRATES motherhood and the many moms who have helped shape our lives. Most of us can thank a mom for our first smiles, subsequent years of grins and endless hours of care—including lots of help and encouragement taking care of our smiles. For ALL our mothers do, we want to say "thanks"! The next time you eat, brush, floss or go see the dentist, stop and think about who taught you to do all those things? Chances are it was your mom. Regardless of who it was, the individual(s) who taught you how to take care of yourself—and your smile—have made a big difference in your life. This Mother's Day, when you talk to your own mom or send a message to another mom who's important to you, think about all the times that person made you smile. If that special somebody helped you with oral care, say "thank you" specifically for that! Let us know what that person says back to you by commenting below! We'd like to hear what their reactions might be! After all, if it weren't for the people who cared for us and taught us about good oral hygiene, we'd probably all have less to smile about (and fewer teeth to smile with).
A Fun, Thank You Tribute To Moms
If you have a favorite memory of your mom, we'd love to hear about it. Share it with us in the comments below or on our Facebook page. And to all of our patients' moms out there, thank you for all you do! You amaze us, and we're so grateful for the chance to work with you and your family.
Have a great Mother's Day!