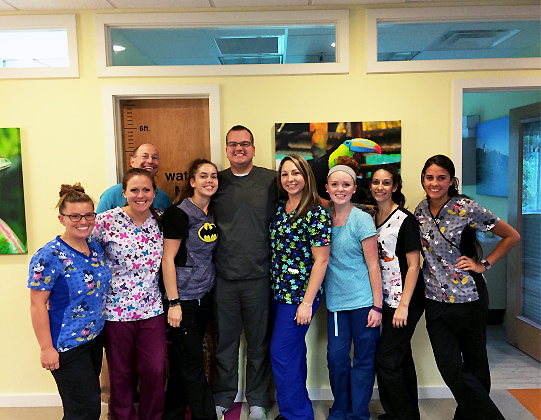 THIS SUMMER, we had the absolute joy of working with Matt Zaborowski, a dental intern from Allegheny College.
He had such a uniquely positive experience and raved about it on his blog – so we HAD to share it with you.
Matt has spent 2 summers at The Smile Spot. The team and Dr. Stephen are always excited to have a positive affect on anyone, from patients to parents and even dental interns! We are honored to have included him as part of our team for 2 summers in a row!
Read more about Matt's experience below:
This past summer I had the opportunity to work with Dr. Stephen Kest, D.M.D. in his pediatric dental practice located in Southbury, CT. Dr. Stephen is a Syracuse University graduate who attended Pittsburgh School of Dental Medicine. Prior to opening his office in 2011, he served as a national spokesman for Sensodyne® ProNamel® for Children in 2009 and 2010.
His office, The Smile Spot Children's Dentistry & Orthodontics, truly epitomizes what a pediatric dental office should be like. He strongly promotes the importance of dental health, preventative dentistry, and promotes positive interactions with children at an early age. The opportunity to work with him and his staff has provided me an invaluable experience that was more than I could ever have imagined. I was fortunate to be able to be a part of the Clinic Team learning the "in's and out's" of dentistry, as well as, working from time to time with the Business Team learning aspects of the business to ensure it's success for both patient satisfaction and daily operations. More specifically, during my time with the Clinical Team, I assisted with dental prophylaxis and other procedures (i.e. suctioning mixing bonding agents, mixing impression material, and light curing); prepared dental equipment and supplies for procedures; performed dental instrument and exam room sterilization, maintained effective patient transitions in the office, and helped with daily business operations.
I also had the opportunity to help assist during several Orthodontic appointments with Dr. Susan Berey, D.M.D., and witnessed a General Anesthesia day with Dr. Chet Sokolowski, D.D.S. Both brought tremendous insight into the multidimensional aspect of dentistry and the importance of collaboration in order to provide the up-most care to every dental patient.
Words cannot describe the gratitude that I have for Dr. Stephen, his staff and The Smile Spot for allowing me to be a part of their family, being an active member of their team and for reassuring my passion and interest in pursuing a career in dentistry. It is clear to me after spending the entire summer in the office why Dr. Stephen was voted a Top Pediatric Dentist in Connecticut. The entire staff displayed excellence in patient care, patience, and commitment to providing dental care and education that ensures for a positive dental experience for both the child and the parent.
Thank you again Dr. Stephen & The Smile Spot Team!