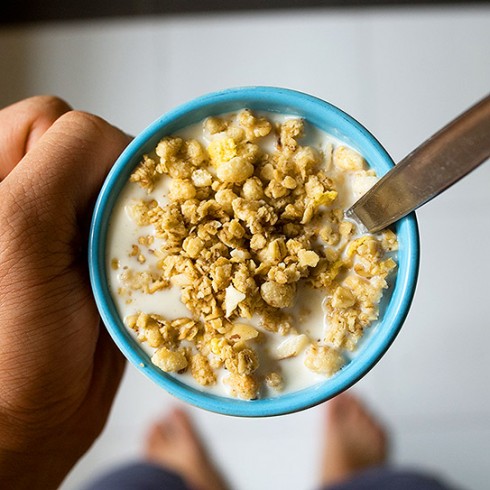 BREAKFAST MAY BE THE MOST IMPORTANT meal of the day, but for many of us it's also the most unhealthy. A bad breakfast is not only bad for our children's teeth, but can make them feel sluggish before they even get out the door—setting them on a track for unhealthy choices throughout the day.
How Often Does Your Family Eat Breakfast On-The-Go?
In the crazy bustle of a family getting ready for the day, we seldom have time to feed our kids a nutritious breakfast. We grab something handy and rush out the door. But donuts, starchy muffins, and sugary pastries gulped down with acidic orange juice or tooth-staining coffee aren't exactly tooth friendly! Even morning cereals may contain more decay-causing sugar than candy bars!
3 Smart Breakfast Tips To Protect Your Child's Teeth
Choose whole grains. They're better for your child, and easier on their teeth than refined starches.
Yogurt naturally neutralizes acids on teeth. Adding granola, chopped nuts, or fruit can make your breakfast more nutritious and delicious!
If your child eats acidic fruits, juices or smoothies, have them rinse their mouth with water when finished.
Smile-Healthy Breakfasts
What's good for your teeth is usually what's good for your body. Here are some great menu ideas:
whole grain, sugar-light cereal with calcium-rich milk
scrambled eggs and whole-wheat toast
yogurt with granola or muesli
What's your favorite quick-and-healthy breakfast to feed your family? Share in the comments below. We love to hear from you.
Thanks for being a valued part of our practice family!