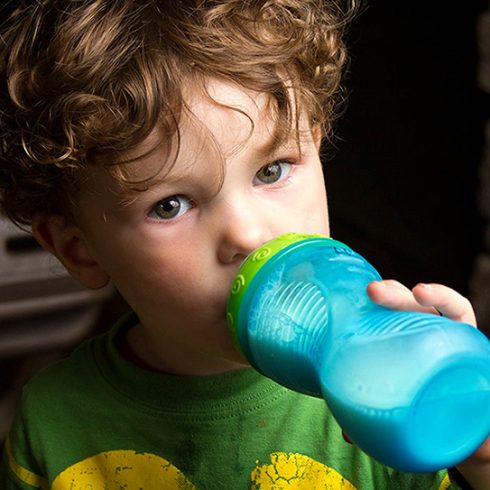 AS YOUR CHILD GRADUATES from using a bottle to enjoy their milk, it's important to remember their oral health as you decide what step to take next.
Sippy Cups Are Only A Stepping Stone
Sippy cups were designed to be a transitional step from bottle drinking to drinking from a regular cup. Despite this, many children end up drinking from sippy cups for months or even years until they are encouraged to begin using a regular cup. Although sippy cups prevent unwanted spills that may arise as they're transitioning from a bottle, prolonged use can lead to a host of problems for their growing smile.
Prolonged Sippy Cup Use Leads To Cavities
Drinking from a sippy cup for long periods of time has similar effects to putting your baby to bed with a bottle. The sugars in both milk and juice combine with bacteria to create enamel-eroding bacteria. When babies fall asleep with bottles, the fluid pools around their teeth and slowly erodes their enamel throughout the night—leading to painful tooth decay (also known as caries).
Drinking from a sippy cup all day has a similar effect. When a child drinks from a sippy cup, they immerse their top six teeth. Depending on what's in their cup, they could be constantly covering those top teeth with sugar. Dental caries may soon follow, which can result in uncomfortable swelling and infection, and even triple their likelihood of developing cavities in their adult teeth.
Keep These Tips In Mind
We understand how convenient sippy cups can be during the early stages of your child's development, but we'd encourage you to use them as a temporary step on the way to using of a regular cup. Some children quickly learn how to manage a regular cup and skip the use of a sippy cup altogether.
If your child does need the help of a sippy cup when transitioning from a bottle, keep the following in mind:
Don't allow your child to use their sippy cup throughout the day. Reserve this for snacks and mealtime.
If they want to drink sugary beverages, encourage them to use a straw. This ensures the sugary liquid misses the teeth as they're drinking.
Visit your child's dentist early and often. They should have their first dental appointment by the time they get their first tooth or reach the age of one.
We Love Helping Your Child's Growing Smile!
We know parents have a lot of questions about their little ones' oral and overall health. If you have questions about transition your infant from a bottle or have other questions about their oral health, please let us know! We're committed to helping provide all of the information you need during this important period of their life.
Thank you for being a part of our practice family!
The content on this blog is not intended to be a substitute for professional medical advice, diagnosis, or treatment. Always seek the advice of qualified health providers with questions you may have regarding medical conditions.