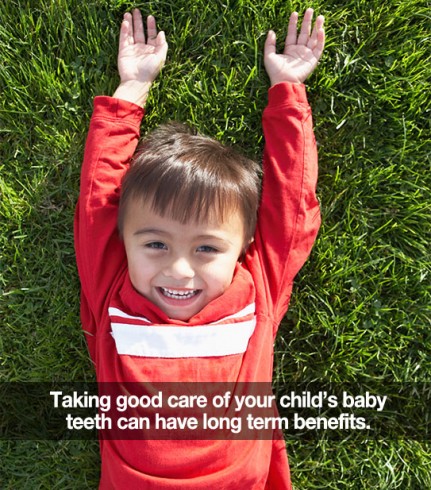 WE'VE HAD A LOT OF parents ask our team when they should start teaching their child to brush his or her teeth. The answer? As soon as there are teeth to brush! Baby teeth may not last past puberty, but when they suffer, it can lead to weakened gums, speech impediments, unhealthy eating habits, and crooked or unhealthy adult teeth.
Baby Teeth Are Important!
And, consider the fact that what a kid learns about brushing teeth in the first few years of life will stick with him or her for a lifetime. NOW is the time to start good habits.
Brushing Doesn't Have To Be A Chore
Did you know that only 44% of kids brush twice a day, as recommended? Even less brush for the right amount of time. Good brushing habits need to start early. Try these tips to make it fun for your family:
Make your kid a toothbrush-fan before they even have teeth by using a kid-friendly brush as a chew-toy.
Play follow the leader by brushing your own teeth at the same time and having your kid imitate your movements.
Tell a silly story or sing a song as you brush. In fact, try these videos from Bugs Bunny and Elmo, specially made to keep kids brushing for 2 full minutes.
Get fun products for your kid to brush with. It's amazing what some good-tasting toothpaste or a fun cartoon brush will do.
How do you motivate your kids to brush their teeth? We'd love to hear about it! Comment below or on our Facebook page. If you ever have questions about your child's oral health (or your own), ask us! We're honored to be your resource for anything and everything dental-related.
Thanks for trusting us with your family's dental health!