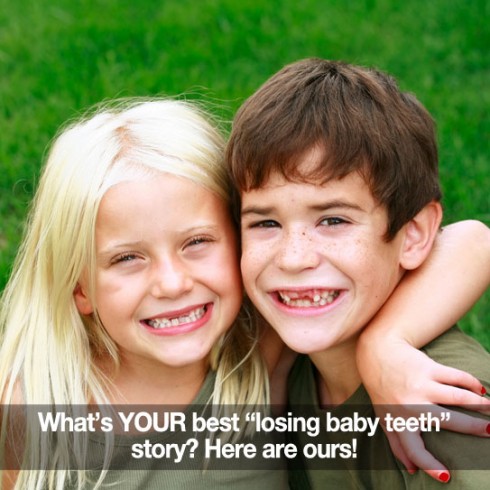 WE'VE ALL BEEN THROUGH IT. In fact, it's a rite of passage. We all have to lose our baby teeth to make room for those big ol' permanent teeth. It seems as though every family has a different approach to handling this with kids. Some kids pull them out as soon as they are able. Others fret and worry a lot until the tooth pretty much falls out on iats own. Some families make dramatic productions each time and publish their videos on YouTube!
So, We're Curious About YOU—Our Patients…
How did you lose your first tooth?
What's the strangest way you or a sibling lost a tooth?
Our Team Starts It Off With Their Own Answers
Tali lost her teeth by watching her brother and dad wrestle on Saturday mornings. She'd get her teeth knocked out!
Jocelyn remembers her sister pulling out a tooth at Dairy Queen with a napkin. The ice cream helped!
Kayleigh lost 2 baby teeth in one day. The first one came out by being knocked out by the merry go round. The second came out when she ran into a swing set pole. Sounds like fun!
Lily was a good "wiggler." Her dad would use pliers if the teeth wouldn't come out. We think she takes the cake (no pun intended) for being the toughest of us all.
Dr. Stephen and Lynn don't remember, so they must still have their baby teeth 🙂
Now, Share YOUR Story Below
Now that you've got a set of permanent adult teeth, hopefully you won't be experiencing any more lost teeth. Take good care of the teeth you have, and they'll last you a lifetime! We'd love to hear from you! Answer the question in a comment below, or on our Facebook page. Share your story… or a photo if you have one!