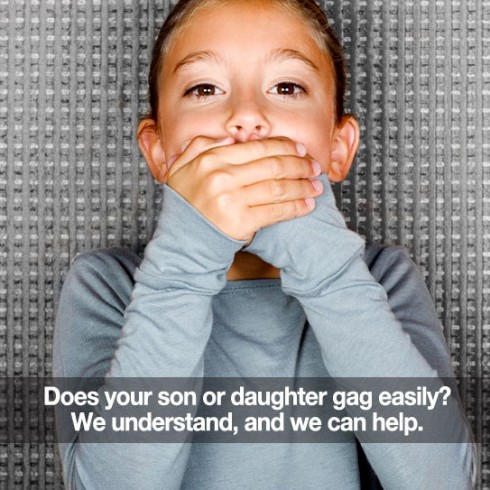 DOES YOUR CHILD SUFFER FROM A SENSITIVE GAG REFLEX? If so, receiving any kind of dental treatment may be frustrating for him or her (and you, the parent). Whether the reasons for your child's gagging are physiological, psychological, or both… we can help. We want to be sure nothing gets in the way of caring for your child's healthy smile.
A Few Tips On Handling A Sensitive Gag Reflex
As is always the case—visit with us! We always want our valued patients to express any concerns or fears. A sensitive gag reflex is actually quite common, so tell your child not to be embarrassed! We can work with you to better ensure that your child has a positive dental experience.
BREATHE! Yes, part of it may be that simple. Having your child focus on breathing can not only help physically, but it may also focus his or her mind away from dentistry. Breathing through the nose is usually best! Sometimes a nasal decongestant helps make it easier.
Listening to music can help your child relax and redirect his or her focus.
Some studies indicate that gagging may be worse in the morning, so consider scheduling an afternoon visit.
Sitting up straighter seems to help some people. Let's experiment with your child's position in the chair to see if that helps.
One study shows that folding your left thumb into the palm of your hand, then making a fist and squeezing your left thumb helps some people with their gag reflex. Have your child try it!
Some Interesting Information About Gag Reflex
Your Child's Complete Comfort Is Our High Priority
Determining what causes a sensitive gag reflex can be difficult. Whatever the cause, it's important to remember that we can help. Talk with us!  If your child has had this problem in the past and you have found things that help, please share them with us! We're always anxious to learn from the experiences of our patients. Write your answer in the comments below, or on our Facebook page!
Thank you for trusting us with your child's oral care! We appreciate you.