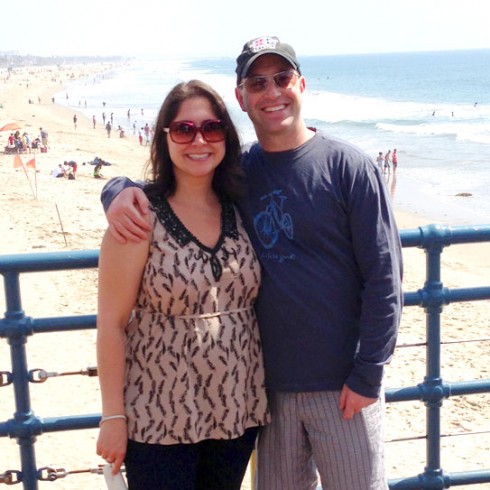 TYPICALLY, IT'S THE FIRST SMILING FACE that greets you when you visit us! For those of you who have met and visited with Tali, you already know how awesome she is. Her personality and excellent communication skills are a huge part of the service we provide.
A Brief Bio About Tali
Tali is Dr. Stephen's wife and was thrilled to work with The Smile Spot Team when the office opened in 2012. Before that, she was a marketing manager at American Express and an account exec at a Jewelry manufacturer in NYC. She met Dr. Stephen in NYC and they recently celebrated their 5 year anniversary together by seeing The Book of Mormon on Broadway. It was hilarious! Their daughter Nava and baby boy Rafi are precious to Tali and perhaps you'll see Rafi when you come in for a visit. Tali has been bringing him into the office with her. Tali's other passion is international travel and her favorite spots are Positano, Italy & Costa Rica. We recently put Tali in the hot seat and asked her some questions so you can get to know her better…
When you have a day off work, what are your favorite things to do?
"Take Nava and Rafi on fun excursions, like trips to NYC & fun places in CT, like Mystic Seaport."
When you first started at The Smile Spot, what were your first impressions of the office and the team? Have those impressions changed?
"I noticed right away that our team and office environment were very unique. Uniquely awesome! Walking into our office feels like walking into a play area and our team always greets you with a smile. We treat people the way we want to be treated, with kindness and warmth. Also, it's just a fun place to be!"
Can you share a story about a patient interaction which has stuck out to you?
"A little boy who was very fearful of the dentist came in to our office. At first, he didn't want to walk through the door because of a previous experience. He enjoyed his visit with Dr. Stephen so much that now when he visits, he doesn't want to leave!"
What's your favorite thing about your job?
"I love planning all the events we run or sponsor. Our "We Love Our Patients" party at Quassy & our Halloween Candy Buy Back events are the most exciting for me. I also enjoyed meeting parents at the Turkey Trot & Mom's night out events that we sponsored.
I also like to order prizes for the office. Gotta keep them interesting! And most of all, it's fun to chat with the parents in the office."
We're So Glad To Have Tali As A Member Of Our Team!
As one of our valued patients, if you have your own question for Tali, please ask it in a comments section below! Also, you can send us a message on Facebook anytime.
We look forward to seeing you at your next visit! Thanks for the trust you place in our practice.