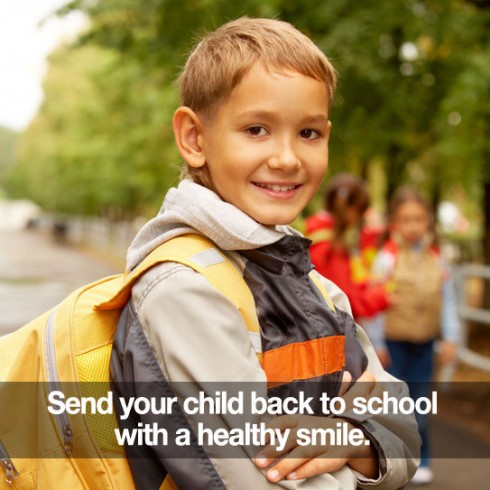 A GREAT EDUCATION is so important. We don't want anything—especially dental problems—to get in the way of your child's learning. We encourage you to schedule a dental visit before your son or daughter returns to class.
Typically, During Back-To-School Exams We:
Go over your child's dental and medical history.
Examine your child's teeth, jaws, and oral tissue.
Take x-rays if needed.
Clean and polish your child's teeth.
Apply a fluoride, cavity prevention treatment.
Together, Let's Keep Your Child Healthy For Class
According to the American Academy of Pediatrics, tooth decay is one of the most common chronic diseases among children. In fact, by the time children begin kindergarten, 40 percent have some form of tooth decay! We want to catch issues early, before they affect your child's oral health and disrupt his or her school year.
Help Your Child By Making Sure He Or She:
Gently brushes at least twice a day, paying special attention to the gum line.
Flosses every day.
Practices good eating habits—a healthy breakfast and lunch can help with energy and focus as well as help protect teeth between cleanings.
Brushes with a travel toothbrush or chews sugarless gum after eating school lunch (if possible).
When you take an active role in your child's oral health, you help more than his or her teeth. You help your child form habits that can positively shape oral and overall health for life. To schedule your child's back-to-school examination, call now or request an appointment. You can also do that directly on our Facebook page.
Have a great school year!