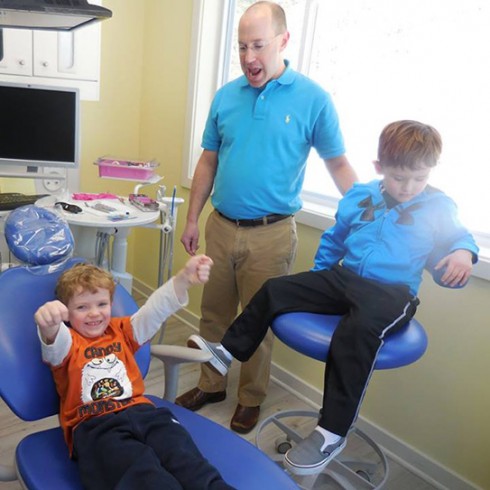 TOOTH DECAY IS THE #1 CHRONIC DISEASE IN CHILDREN. It's estimated that 40% of children have some form of tooth decay before they even reach kindergarten. Alarming, isn't it? But SO much of the problem is preventable through routine hygiene appointments. Your child will be so excited to have their teeth cleaned and "checked out." On a regular basis, kids want to stay and play and their parents tell us they've been looking forward to their check up for weeks!
We are committed to serving our patients, and we are excited to watch them develop beautiful, bright smiles! At your visit, we educate you about nutrition, oral home care for your child and what to expect for your child's smile in the years to come. Dr. Stephen earned his degree from the University of Pittsburgh School of Dental Medicine. He then completed a 2-year pediatric dental residency program in New York City, where he gained invaluable experience as a specialist in his chosen field. Voted a Top Pediatric Dentist in Connecticut, Dr. Stephen has earned a reputation for excellent patient care, allowing for a positive dental experience for both you and your child.
Add Dental Checkups To Your Back-To-School Checklist
Don't wait until there's a problem—even if your child isn't complaining about discomfort. Tooth pain doesn't usually exist until decay reaches the tooth's pulp. At that point, it's probably advanced and may require more extensive treatment. Good preventive treatment happens BEFORE there's pain. Routine visits will start your child on a lifetime of good dental health. During your child's visit, Dr. Stephen may also recommend protective sealants or home fluoride treatments for your child. Sealants can be applied to your child's teeth to prevent decay on hard to clean surfaces.
Help Set Your Child's Great Oral Health Habits Now!
When you take an active role in your child's oral health, you do a lot more than care for his or her teeth. You help your child develop habits that will positively shape overall health for life.
To schedule your child's back-to-school examination, call now to request an appointment.
Have a great school year!